September 11, 2001. This is the day that will always stand still in my mind. I was working in downtown St. Louis, and as the other employees started coming in they were bringing with them tales of planes hitting the twin towers. Of course we didn't believe them, thought maybe it was some prank that one of the jokesters of St. Louis radio had come up with. We all went in the board room and turned on the television to find that it wasn't a joke. It was a horrible reality. We sat in the boardroom for over two hours, until the boss forced everyone to return to their desk and work. Honestly, that is the day I lost all respect for that boss. He watched the same news we did, heard the same reports as us, but still insisted that we return to the normal business of selling movie rights to cruiselines and hospitals? How ridiculous is that? I feel bad saying this, as the gentleman who was my boss at the time has since passed on, but I am very proud of the way my coworkers and I supported our country that day and tried to reach out to anyone around us who was personally touched by this horrific event.
Olga Kristin Gould White was 65, from New York City, and she was on Flight 93 on September 11, 2001. On that day that we will never forget, Kristin was en route to San Francisco to visit friends and the wine country. She was a widow and mother of one daughter, Allison Vadhan. After reading about her, I am amazed at the wealth of knowledge and accomplishments in her portfolio. She was fluent in several languages, she was her high school valedictorian, and she graduated from Cornell University in 1957. She had a 30 year career as a freelance writer, and her specialty was in medical issues for related publications. Of special interest to me is that she also penned stories using a pseudonym for the National Enquirer. I have been a fan of this tabloid for years, so I'm sure I read things of hers before I ever knew of her.
She seemed to have the life of luxury, at least in my eyes. She wore Ann Taylor, drove a Saab convertible around New York City, attended plays and the ballet, and was known to be highly intelligent, well-traveled, popular in her circle of friends, and lived a very full life.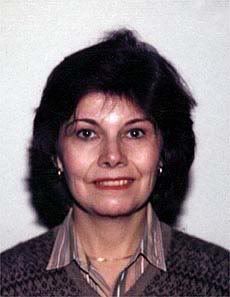 When I look at this picture of her, she looks like she could be any friend of my mother's. Seeing pictures of her makes her life so much more real to me. While I only know Kristin through my research, as do many others, I read some wonderful comments about her:
Kristin was a freelance writer and editor for our medical publishing company in the 80s and 90s and she was a delight. You are missed, Kristin, by me--and by our mutual friends in Dublin.Vicki Cohn (New York, NY)I first met Kristin at one of her favorite jazz places in the Village she loved so much. We would talk about books, music, poetry, people and politics. She was always very friendly yet with a quiet reserve that made you want to know her even better. I just came across her card tonight and it made me think about how much she will be missed by not only her family, but by all of us whose lives she touched. Her joy of life was typically that of a real New Yorker and she shared those bright moments with everyone she met. Dale Hardman (New York City, NY)
On the many tribute pages that I read, so many people sent heartfelt notes to Kristin's daughter, Allison. I too wish her well. I read that Allison was on her way to work on September 11, 2001, when she saw the smoke coming from one of the twin towers. She then saw the second plane fly into the second tower. She went home and checked her mother's itinerary online, because she couldn't remember if her mother was flying out on Monday, Tuesday, or Wednesday. This is what gave me chills-she saw "Flight 93" on the email from her mother at exactly the same time the flight number and crash flashed on her tv screen. I can't even fathom the emotions that must have encompassed her at that exact moment. While I will never forget what happened on that horrible day, I'm sure Allison will also never forget that moment when she realized that her mother was on Flight 93. My heart goes out to her, my prayers are with her, and I hope she knows how loved and admired her mother was.